This page also works as my disclaimer that I am not actively promoting to you (a foreign traveler) to use your phone or wireless-capable electronics in Japan and that you're on your own in terms of the responsibility and risk of using your wireless-capable devices there.

I wish I did not need to say this, but there're enough number of "negative" people against this matter, so I have to say this and prepare this article in the beginning.
The 2nd legal problem exists in Japan which makes it difficult for you, a foreign traveler to Japan, to use your own wireless electronics devices there, such as
– cellphones,
– tablets,
– portable WiFi routers,
– MP3 devices such as iPod Touch,
– laptop computers,
– digital cameras with WiFi or Bluetooth connection
– wireless headphones
– activity trackers with WiFi or Bluetooth connection
– smartwatches with WiFi or Bluetooth connection
or anything that "transmits" radio signals to the air.
The current Japanese law of Radio Act requires any wireless devices used in Japan, which emits radio signals to the air, to be tested and certified as conforming to the Japanese Technical Standards of radio waves. The testing is usually conducted by a device manufacturer in the special lab environment before they start to sell the specific device commercially in Japan. As a proof of certification, or passing the test, the devices must bear the Giteki Mark (Certification of Conformance to Technical Standards) such as below:


A Giteki sticker may be placed at the back of the device, or inside the battery compartment if the device is tested and certified to be conforming to the Japanese standards or specifications.
In some cases, A Giteki mark is displayed in somewhere in the Settings menu of the device. For example, a Sprint version of iPhone 5S and 5C includes a Giteki mark in Settings -> General -> About -> Legal -> Regulatory, like shown in the picture below: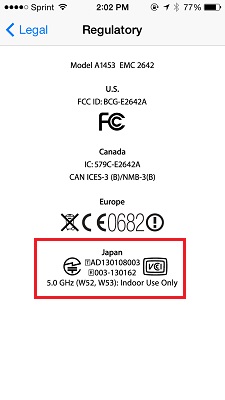 However, an official US unlocked version, an AT&T, a T-Mobile US, a Verizon and all other iPhone 5S/5C models sold outside Japan do not contain this Giteki mark. Here's the Settings -> General -> About -> Legal -> Regulatory screen of the US official unlocked version of iPhone 5S: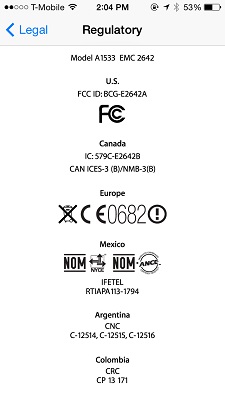 They are almost the same models of iPhone 5S/5C except cellular frequencies. WiFi are the same, and Bluetooth are the same.
Yet, it is legal under the Radio Act to use a Sprint or Docomo or Softbank or KDDI au iPhone 5S/5C in Japan, BUT it is illegal to use any other iPhone 5S/5C in Japan UNLESS you use it in Airplane mode and no WiFi/no Bluetooth.
That's funny, you ask. Well, it costs more than 5,000,000 Yen (about 50,000 US dollars) to have each model of the devices tested for Japanese market, I heard. And, Apple never bothered to test the sub-models of iPhone 5S/5C which they never intended to sell in Japan.
"But, how about FCC (in USA) and CE (Europe) certifications?", you ask.
Unfortunately, the current Japanese law does not recognize any test that is not conforming to the Japanese technical specifications, which they claim to be slightly different from other countries' ones, like the strength of radio signals permitted. So, the test must be carrier out for the very specific and unique Japanese standards, not FCC nor CE. Sorry, folks.
The newest iPad Air and iPad Mini Retina does contain the Giteki mark because Apple made only one Global model (except they later introduced a Chinese model, which does not contain a Giteki mark.)
Here's another screen shot from a Nexus 5 US model, in the Settings -> About phone -> Regulatory information. It does not contain a Giteki mark.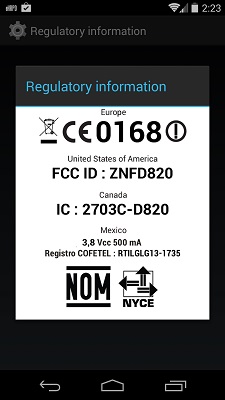 So, here's the conclusion:
If your cellphone, tablet, mobile WiFi router, music player, WiFi-capable digital camera, and even laptop PC does not have a Giteki mark, and you're turning on your cellular (mobile) data, WiFi and/or Bluetooth, you're violating the Japanese law of Radio Act.
* The only exception allowed under the law is that you can use ONLY the cellular radio with your non-Japanese cellphone if you use your country's SIM in it and use your country's carrier's international roaming service in Japan.
But, no WiFi and no Bluetooth!
Ok, I scared you, right?
This law is very controversial, is too old, and does not fit with the current technological AND global world we live in.
To be fair with the Japanese government, the law was initially established to avoid the radio interferences caused by radio broadcasting devices or walkie-talkie type of devices, which uses different frequencies in Japan from those overseas. The current Radio Act of Japan did not assume that there would be radio applications (frequencies) with global standards, such as WiFi and Bluetooth and, to certain degree, cellphone radio.
I see some movements or desires to change this law or, at least, to include the exceptions to foreign travelers before 2020 Tokyo Olympics, to which Japan expects many international travelers. But, right now, it is not legal for you to turn on your device's WiFi or Bluetooth in Japan unless the device contains a Giteki mark.
On the other hand, it is practically impossible to find out if you're using a consumer electronics device without a Giteki mark by only checking the radio frequencies and strength. There's no difference between WiFi signals in Japan and WiFi signals elsewhere. The same goes to Bluetooth. So, the chances are you're NOT going to be caught as an illegal radio-wave pollution generator.
And, I've never heard of any international travelers get caught, prosecuted or penalized by using a WiFi in Japan through his cellphone or laptop computer.
Hopefully, the law will change, or, at least, include the exceptions clause in the future.
But, at this moment, please be responsible and discretionally to use your own non-Japanese electronics in Japan.